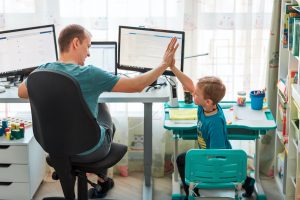 When you think of our current workplace culture, words like family-friendly or strong parent support rarely come to mind. But recently, more businesses have been showing an interest in changing this stigma, especially after considering the rewards of creating a better work-life environment for parents.
5 Things Companies Can Do to Support Working Parents 
A recent report shows that child care costs increased over 40% during the pandemic, which placed significant pressure on caregivers with careers. This is one of the many variables that prompted an urge to provide better support for working families. 
But what does better support for families look like? Here are five things that companies can do right now to make their workplace more family-friendly: 
Encourage working caregivers to commit to a work-life balance. 
We tend to value employees that are fully committed to a company and make work their number one priority. However, this mindset often makes workers feel guilty about taking a vacation or personal days off. It places unbelievable pressure on parents and can upset their work-life balance. When employers encourage their teams to use vacation days, practice self-care, and make families a priority, everyone benefits. 
Help parents expand their support network. 
Companies can make parents feel recognized by simply helping them expand their network and giving them a sense of belonging. Connecting parents with other parents, organizing parenting group Zoom calls, or hosting family-friendly events can help caregivers feel more included and supported. 
Provide more flexibility and customized schedules. 
If there's one thing that parents know for sure, it's that children thrive in environments with structure and routines. While there's no way to make schedules run perfectly one-hundred percent of the time, employers can create more flexibility for parents to help them manage family routines. Understanding the importance of being present for school or daycare drop-offs, after-school activities, or sick days can make a huge difference in a parent's life. 
Promote quality of work over quantity of hours. 
More companies need to adopt a philosophy that values the quality of work over the number of hours a worker spends in an office. Part of a parent's work-life balance is their commitment to their career, and this commitment should be defined by successful outcomes rather than numbers on a timecard. 
Provide tools to enhance parenting practices.
When parents have the tools to enhance parenting practices, they can make more space for their careers. The BabySparks program is a powerful example of an essential working parent resource. With on-demand and live expert-led parenting classes, as well as one-on-one private coaching, working caregivers can access the support they need when they need it. The early childhood program is designed to adapt to each child's stage of development, and it provides daily activities, parenting tips, and tracking tools to help monitor milestones. Resources like this can make working caregivers feel more confident in their parenting skills, and more capable to shine in the workplace. 
Remember that family-friendly workplaces are key to a better future! To learn more about BabySparks and how you can offer it to your working parents, please reach out to us at employers@babysparks.us