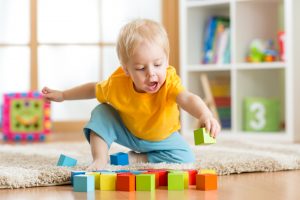 When the time comes to refresh your little one's toy box, you may want to think twice before tossing the Lego Duplos, Bristle Blocks, wooden shapes, or whatever form of building blocks you happen to have on hand. While these blocks may appear to be an ordinary toy, they're really much more than that! Building blocks, or any form of solid shapes that are used to construct something, offer a wide variety of benefits for little ones – one of the reasons they show up in many of our BabySparks activities.
Highlights: 
Building blocks, or any form of solid shapes that are used to construct something, offer a wide variety of benefits to little ones!

Building blocks can:

Enhance spatial reasoning.

Increase motor skills.

Boost hand-eye coordination.

Stimulate cognitive flexibility. 

Improve language development.

Encourage creative thinking.

Elevate social skills.

Increase problem-solving and critical thinking skills. 

Spatial reasoning, which has a strong connection to math and science, is a key skill that's considered the main focus of building blocks. 

When promoting this type of play, remember to provide age-appropriate blocks and try to reserve a play area that's dedicated to building blocks. 
Studies show that building blocks can:
A Focus on Spatial Reasoning Skills
You've probably heard a lot about why it's so important for a young child to learn to develop language, social, and motor skills. But sometimes spatial reasoning skills get swept under the rug. Basically, spatial reasoning is the ability to construct, manipulate, and operate objects in a way that makes physical sense. For instance, learning to put bigger, heavier blocks at the bottom and smaller blocks at the top is a form of spatial reasoning. We use our spatial reasoning skills to follow directions on a map, navigate a crowded grocery store, or properly arrange furniture in a room.
Most importantly, spatial reasoning abilities have a strong connection to math and science skills. It makes sense that learning how different shapes, weights, and sizes fit together can help a child understand things like geometry or physics. Playing with building blocks can also help a child grasp the idea of spatial words and phrases, such as above, beneath, top, bottom, under and over. These spatial reasoning benefits of structured-block play have been proven over and over again through various scientific studies, brain scans, and extensive research. It's not just a promotional stunt from the Lego corporation! It's real science!
Ways to Encourage Block Play
Incorporating more block play into a child's daily routine is pretty simple! Here are a few things to keep in mind:
Make sure you're using the right blocks for your child's age. Babies can learn to build their very first towers using classic ABC blocks, and toddlers love different-shaped blocks that are easy to handle but large enough that they don't pose a choking hazard (think Lego Duplos or large cardboard blocks).
Have a play area dedicated to blocks. This can help make the activity more inviting.
Play with him! Get on the floor and build a structure of your own. Show him different arrangements. Remember to laugh and clap when a structure comes crumbling down. Rebuilding is always an option!
Challenge him. When you notice that he's mastered a level, encourage a more difficult structure or template. For instance, building a different type of tower.
If he creates a structure that he's really proud of, place it somewhere safe for a few days. Allow friends and family members to see the structure and let him explain his creation.
Have building block play dates with friends. This can help children develop their social and language skills while also having fun.
Keep these facts and tips in mind during your next toy purge and hold onto those building blocks!