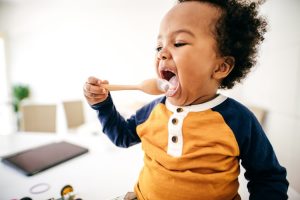 Your toddler and your kitchen are covered in puree, but you're smiling from ear to ear. This is the moment you've been waiting for! After weeks of practice, you just observed your little one successfully grasp a spoon, scoop up their food, and place it into in their mouth. These moments are glorious, messy victories for parents and big steps towards independence for toddlers.
Self-feeding is one of the many ways your child shows they're learning to do things on their own. Your toddler may be 2 before they can actually get food from their plate into their mouth, but long before that, they're building the foundational skills for using utensils.
Highlights:
Using utensils is one of the many ways children begin to show their independence.
The building blocks of self-feeding include fine motor skills, gross motor skills, and cognitive skills:

Fine Motor Skills: Children learn to use utensils through coordinating their hands and eyes, like learning to grasp a spoon and raise it to their mouths with precision.
Gross Motor Skills: Self-feeding involves building enough strength in their trunk to sit at a table, and enough coordination in their arms to eat.
Cognitive Skills: A lot of thinking goes into learning to self-feed! Cognitive milestones, like being able to focus on a task and learning to problem-solve through trial and error, help toddlers learn to eat independently.
Fine Motor SkillsThe Building Blocks of Utensil Use
Before your little one can eat with a utensil, they need some practice strengthening and coordinating their hands and eyes. Here's what this looks like from birth. Remember that milestones are based on averages, so your child may not follow this timeline exactly.
Becomes aware of hands (6 weeks)
Grabs objects held in front of them (3 months)
Reaches out to grab a fallen item (5 months)
Learns to use hands in different ways to perform tasks (9 months)
Places objects in containers, and takes them out (10 months)
Firmly holds objects in hands (12 months)
Becomes more deliberate with object placement as hand-eye coordination improves (15 months)
Uses the appropriate hand grasp for different objects based on shape or size (18 months)
Brings a spoon to their mouth with precision (21 months)
Around their first birthday, start giving your toddler a spoon to experiment with during meals. Show them how you use one, too!
Gross Motor Skills
Hands and eyes are the real stars when it comes to using utensils, but the trunk and arms play important supporting roles. Here's how toddlers develop the core strength to sit at a table, and the arm coordination to eat:
Sits with support (6 months)
Transfers objects between hands (6 months)
Sits with more balance using arms as support (7 months)
Sits independently without arm support (8 months)
Sits on a chair properly, with back straight and feet down (9 months)
As your baby grows, learns to walk, and becomes more coordinated and balanced, they'll be able to sit with good posture, showing you that they're ready to practice using utensils.
Cognitive Skills
Using a utensil seems simple, but a lot of thinking goes into learning how to do it! Here are some of the cognitive skills that contribute to self-feeding:
Brings hands to mouth (2 months)
Improves ability to focus on a task (7 months)
Uses visual cues to associate an object with an activity, like seeing a fork means it's mealtime (9 months)
Tries to use objects to complete tasks (11 months)
Consistently interacts with objects to learn how to use them (13 months)
Problem-solves through trial-and-error, like turning a spoon until it fits correctly into their mouth (15 months)
Develops spatial awareness, which helps them understand how where the food and utensils are in relation to their body (18 months)
Now that you know how much goes into getting that spoon from apple sauce to mouth, it's time to practice! Hand over a utensil, embrace the mess, and watch your little one's self-feeding skills blossom.