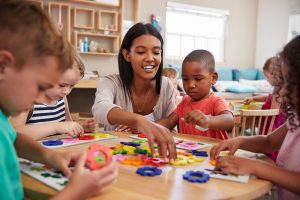 Putting your baby or toddler in a childcare program can be a big change for both you and your little one. However, the right childcare program can help your little one learn new skills, give her fun activities that aid development, and set her on the right foot toward getting ready for preschool.
An excellent way to make sure your child gets everything she can out of the childcare setting is to take steps to foster and support her learning and development.
Highlights: 
Here are some tips to help your child get the most out of their childcare setting: 

Find a childcare program that you align with.

Communicate with your provider regularly, to stay updated on your child's progress, learning objectives, areas of improvement, and what you can do to boost their skills at home. 

Volunteer when you can – not only to offer support, but also to get a first-hand glimpse of your little one in the childcare environment.  

Work on independence skills at home, like putting on a jacket, drinking from a water fountain, or washing hands. 

Try to match home and childcare routines when possible. 
Steps to Childcare Success
For your child to be successful in a childcare program, it's important to find a center that meets your needs, stay involved with her program, and reinforce her learning.
Find a Childcare Program That You Align With 
A quality childcare program that aligns with your values, expectations, and needs can make all the difference in your child's success. In this article you can read about how to find a childcare program that's a good fit for your family. Scheduling a visit to tour the center will help you get a feel for how caregivers interact with children, how clean the rooms are, and what activities are available for your child.
Communicate with Your Childcare Provider
Staying in touch with your little one's childcare provider keeps you up to date with her progress, so you'll know what she's learning, what she might need some help with, and what you can do to boost her skills.
Quality programs usually have ongoing assessment processes that help providers keep track of areas in which your child excels, needs extra help, or is right on target. It's important to keep an eye on milestones at home, but it's also a good idea to check in to see how her childcare provider thinks she's doing, too.
When enrolling your little one in the program, ask the provider how to best get in touch with any questions you have, and how to schedule conferences if needed.
Volunteer in Whatever Ways You Can
Another way to stay in the loop is to volunteer at the childcare center. You'll get to see first-hand what your child is working on, and what kinds of activities the center has.
Although you can donate some time in the classroom with tasks like setting up for, or cleaning up after, lunch or snack, laying out activities, or assisting with music or storytime, you can also volunteer to help at home. Offer to cut materials for craft time, send in some books for the teacher to borrow, or type up the teacher's lesson plans.
Work on Independence Skills
Children need to learn how to do a lot of things as they progress in childcare settings, like put on a jacket, use the potty, and get drinks from a water fountain. Your baby or toddler won't master these skills just yet, but you can work on developing independence skills at home.
Toddlers can start to do a little more for themselves, like grooming, helping to dress and undress, and learning to use buttons and zippers. The "Self-Care" area of our BabySparks development program is full of ideas for teaching these skills!
Try to Stick to Routines
It's not always possible to align at-home routines with childcare center ones – but when you can, it makes the transition back-and-forth easier. This is especially true for mealtimes and naptimes!
Did you know that BabySparks isn't just for parents? Our BabySparks professional development program can be used in daycares, preschools, and other childcare settings!