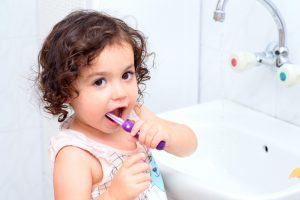 Let's face it, we all love pictures! Babies, toddlers, and even most adults would prefer to learn through pictures, symbols, and illustrations instead of words or auditory cues. Our brains are built for it! In fact, the part of the brain that processes visuals is significantly bigger than the part of our brain that processes words. This simple brain fact can come in handy when it comes to teaching independent self-care tasks to little ones. Teaching your child how to brush her teeth, wash her hands, or get dressed in the morning can become a lot easier when you supplement these daily lessons with visuals.
Highlights: 
Since our brains are built to easily process visuals, using visuals to teach self-care tasks can help little ones become more independent. 

Visuals for self-care tasks can help:

Grab and hold their attention. 

Offer them time to process and store information. 

Increase retention.

Improve understanding of the task. 

Offer an opportunity for them to complete the task independently. 

Some tips for creating visuals include:

Use bright colors.

Place visuals at their height for easy viewing.

Include sequence words, like "start here". 
Why Visuals Are Helpful
Using visuals to teach your child self-care tasks can:
Grab and hold her attention
Offer her time to process and store information
Help her recall the information faster
Increase retention
Improve understanding of the task at hand
Offer an opportunity to complete the task independently
Reduce anxiety when facing a new task or challenge
Tips for Creating and Using Visuals
If you love the idea of using visual cues for teaching self-care, but you don't consider yourself an artist, don't worry! You don't have to be an arts and crafts teacher in order to utilize visuals around the house. There are plenty of resources out there that provide visuals that you can print out or purchase online. You can find visual aids that come in the form of flashcards, posters, or charts.
Another fun and productive way to enhance visual learning is to include her in the visuals! Take pictures of her while she's completing one of these tasks and turn them into her own personal visual aid. For instance, take a photo of her getting her toothbrush and toothpaste out, take another of her putting the toothpaste on the brush, then brushing, rinsing and so on. Print them out and hang the photo sequence in the bathroom for her to reference when she's trying to do it on her own.
Here are some other tips for creating and using visuals:
Be sure to use visuals with bright colors instead of just black and white. Color can increase your child's willingness to focus by 80%!
Place the visuals on a wall at her height for easy viewing.
If you do include words, such as START HERE, or 1: SOCKS, 2: SHOES, try to keep it to a minimum (one or two words per visual). Let the images do the work.
Make the visual aids durable and fixed in their proper place. Try covering them in contact paper to make them last longer. Use velcro or tape to make sure they don't fall.
Remind her why the visual aids are there and encourage her to try to complete the task on her own.
Ask her to point to the images as you ask questions like, "What do you do first?", "Then, what?", "What's the last thing we do?"
Include a "results" visual at the end of the sequence. For instance, for dental care visuals, include an image of a big, bright smile. For washing hands, include an image of clean hands with a piece of fruit. This will help her understand the benefits of these tasks and why we do them.
Wondering when to introduce different self-care tasks? Our BabySparks development program has an entire section of self-care activities for toddlers, introduced at just the right times!