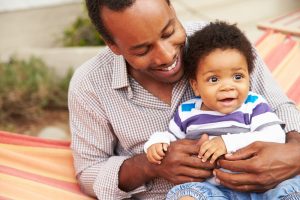 Motor, communication, and cognitive development are at full speed. Some babies start rolling over and are able to be in a seated position without your help for a limited amount of time. Others will start army crawling (moving forward with their stomach on the floor). Their arms and hands begin to take a secondary role to the legs, which steal the show as they achieve critical milestones in the coming months.
As babies learn to use their fingers more, their ability to manipulate objects also improves. They are able to squeeze, shake, and move objects within reach in different ways. This, in turn, helps teach the concept of cause and effect that will be developed over the next few months (i.e., what happens when a maraca is shaken or a bath toy is squeezed?). Your baby might be able to start clapping.
Cognitively, babies expand their understanding of objects, and begin using toys in different ways, including as tools to grab other toys or objects. They might also start reacting when called by their name.
This period is also one of increased social engagement, with babies displaying higher interest in being included in the interactions of people around them.