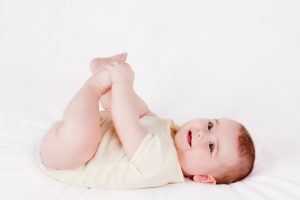 Throughout this month, babies will continue to get to know their bodies and gain control over them.  They discover their feet and begin touching them and may be able to take them to their mouths.
Hand-eye coordination is more sophisticated and harmonic, which increases their interest in exploring objects in a detailed way.  Some babies might be able to roll from their tummy onto their backs in the fourth month, but it might not happen until next month.
Socially, they enjoy interacting and playing with people.  They begin demonstrating more clear emotions, like indicating boredom by turning their heads or expressing joy by kicking their feet and smiling.
Their awareness of others increases as well, and they react to facial expressions and multiple voice tones and other sounds by producing their own sounds.  Those sounds begin to express emotion, as they show happiness, anger, or discomfort.