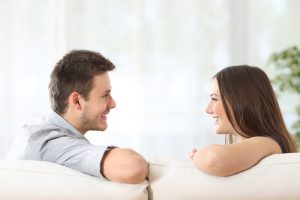 Disagreeing with your partner about parenting is a common issue couples face after having children. Deciding on a set of "rules," so to speak, can help you create a positive and consistent approach that makes your day-to-day easier and benefits your little one(s).
Studies show that couples struggling to parent on the same page during their children's early years is linked to negative outcomes for children, including poor social adaptation, less success in school, and increased anxiety and behavior issues. On the other hand, parents working together in a positive way predicts better overall adjustment for children.
Highlights: 
Disagreeing with your partner about parenting is common. However, learning to work together in positive ways predicts better overall adjustment for children and a better parenting experience for you. 

In order to work as a team, it's important to pin down some "rules". Some examples include: 

What's the daily schedule/routine? 

What's our nutrition approach?

What's our discipline approach?

What's our budget? 

How will we share household and parenting tasks? 

Here are some tips to help parents agree on the rules: 

Communicate clearly and be open to each other's views. 

Find the positives and praise each other's parenting skills. 

Compromise and approach disagreements with flexibility. 

Try not to criticize or undermine your partner. 

Capture your cohesion by regularly checking-in with one another and emphasizing your family unit. 

Remember that your parenting approaches will change as your child grows. That means you'll revisit and adjust your rules over time. 
Okay, so parenting as a team is important, but how do you do it?
What are the "Rules"?
That's up to you! But here are some examples of questions to pin down:
What is the daily schedule (including sleep and mealtimes)?
What is our nutrition approach?
What is our discipline approach?
What is our parenting budget (for clothing, toys, activities, etc.)?
How will we share household and parenting tasks?
On that last point, it's interesting to see the stats: A recent Pew Research Institute survey found that the division of childcare for both parents who have full-time jobs outside the home panned out as:
Managing children's schedules/activities—54% of moms do more, 6% of dads do more, and 39% shared equally
Disciplining children—20% of moms do more, 17% of dads do more, and 61% shared equally
Working together to feel good about sharing responsibilities will go a long way in keeping parenting together a positive experience.
How Do You Agree on The Rules?
Is getting on the same page easier said than done? The University of Florida's Department of Family, Youth, and Community Services has some tips if issues arise as you plot a parenting plan.
Communicate. This is the bedrock of partnership. Take time to not only constructively share your views, but also carefully listen to your partner's.
Find the positive. Find moments in which you feel good about your partner's parenting and point it out.
Compromise. Parenting together doesn't mean being exactly the same. Approaching disagreements with flexibility (and acknowledging that there is more than one "right way" to do things) goes a long way.
Don't undermine or criticize your partner. Not only does this interfere with constructive communication, it can negatively affect your little one if she hears or sees you doing it. You and your partner are your child's favorite people in the world, and it can feel confusing to her to observe one of you speaking or behaving negatively towards the other.
Capture cohesion. You're a unit. Emphasize doing fun things together as a family, and check in with each other regularly about how you both feel things are going.
Remember that The Rules are a Living Document
Your parenting approach will change as your child grows from a baby to a toddler, and eventually a teenager (Oh, boy!). Each stage will require re-examining and revising the details.
Getting on the same parenting page with your partner can be tough, especially because many people have strong opinions about the "right" way to raise children. What's more, each child has his own unique temperament and may need different parenting approaches. Agreeing on how to parent together takes time, communication, and flexibility, but it's worth it for everyone, especially your child.