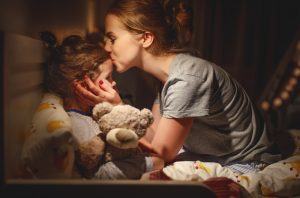 Some little ones adjust easily to sleeping in a big kid bed. Many, though, go through a period of ups and downs – literally! If the switch from crib to bed has turned nighttime (and nap time) upside-down, read on for expert tips about how to tackle common roadblocks for this big milestone.
Highlights: 
Here are some expert tips for helping children adjust from a crib to a big kid bed:

Each time your child gets up, quickly and calmly walk them back to bed. Keep the "back-to-bed" ritual brief and boring so you're not encouraging the behavior. 

Praise them for getting back into bed. 

Give them ideas for falling back asleep, such as rubbing a blanket, thinking about their day, or snuggling with a stuffed animal. 

Keep their pre-sleep routine consistent. 

Give them lots of encouragement and praise when they stay in bed. Remind them that it's a big accomplishment! 
Common Crib-to-Bed Roadblocks
Getting Out of Bed
The new sense of freedom that comes with sleeping in a bed can be exciting and/or frightening for little ones, prompting them to get out of bed. Each time your child gets up, quickly and calmly walk her back to bed. Praise her for getting back in, remind her that she needs to stay there, and then leave the room. You may need to do this several times for several nights. In fact, the American Academy of Pediatrics (AAP) says it's not unusual to put your child back in bed up to twenty times a night following a crib-to-bed transition!
The AAP and other experts also say to keep this putting-back-in-bed ritual brief and boring. Prolonging the interactions by rubbing your child's back, singing her a song, staying with her until she falls asleep, or even expressing frustration or anger can keep the behavior going.
If your little one continues getting out of bed no matter what you try, consider putting a safety gate in the doorway of her bedroom. This barrier reinforces the boundary rules, and can even provide a sense of security.
Trouble Falling Asleep
Falling asleep (or back asleep) in a bed can be hard when little ones are used to the coziness of a crib. If your child is struggling to snooze after the switch, try giving her ideas for falling back asleep. Depending on her developmental level, this could be rubbing her blanket, thinking about fun things she did that day, or snuggling with a favorite stuffed animal. You could even let her pick out a new stuffed animal or blanket, and dub it her special sleep-time friend. Explain that it stays in her bed at all times, and isn't for playing but rather for helping her fall asleep.
Early Morning Wake-Ups
If your child is consistently waking up too early, consider investing in a toddler clock that shows one color for sleep time and another color for wake time. For younger toddlers there may be a learning curve here, but once they get the gist it can work wonders.
If you don't want to go the clock route (or it doesn't work), walk your child back to bed if she gets up too early. It's a good idea to decide on a family wake-up time and stick to it so she knows what to expect.
Fear of The Dark
Nighttime fears are common, especially when little ones are used to feeling contained and protected by crib walls. If this is the case for your child, head over to our article with advice about dealing with fears at bedtime.
Other Tips
Aside from tackling the usual crib-to-bed obstacles, these tips can help ease the transition:
Keep the pre-sleep routine the same. Especially important is keeping bed and nap times the same.
Be consistent. Once you decide on an approach, stick with it. That means walking your child back to bed every time.
Give your child lots of encouragement and praise. Let her know you understand this is a big change, but you know she can do it. When she stays in bed, let her know it was a big accomplishment.
Above all, hang in there. The weeks after your child moves out of her crib may remind you of the newborn sleepless days, but with sensitive and consistent input from you, she will get the hang of it.