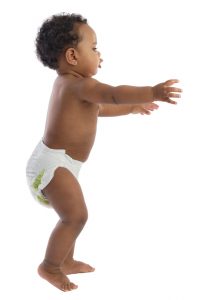 We've already touted the benefits of being barefoot. Now let's talk about ditching your baby's clothes, too!
Whenever it's warm and safe to do so, consider stripping your baby down to her diaper. If you're brave you can take that off, too (more on this below). Being naked promotes different areas of her development, including:
Highlights: 
Allowing babies to be naked in warm and safe environments promotes different areas of development. 

Skin-to-skin contact (shirtless caregivers cuddling naked babies) benefits brain development, health, the ability to breastfeed, and attachment.

Letting babies discover their bodies and environment through their bare skin supports sensory integration —the ability to understand the information we take in through our senses. 

Clothing can create restrictions in movement. Naked babies have a full range of motion. 

Giving babies opportunities to be diaper-free can enhance the experience of walking. 
Skin-to-Skin
Skin-to-skin contact is when a shirtless mother or father cuddles their undressed infant, usually chest-to-chest. Doing this (especially soon after birth) benefits your baby's brain development, health, ability to breastfeed, and attachment to you. You can read more about the benefits of skin-to-skin here.
Sensory Integration
For your baby (especially after the dark coziness of the womb) the world is a wild place. She must learn about her body and how to function amidst different lights, sounds, smells, tastes, temperatures, and textures. As adults, we move through this stimulating world barely noticing these things (unless of course we're at Disney World). In short, we are sensitized.
The official term for becoming sensitized to our environment is "sensory integration"—the ability to understand the information we take in through our senses and use it to function.
Babyhood is primetime for sensory integration, especially when it comes to the skin. Letting a baby discover her body and environment through her bare skin is a great way to support this learning.
Movement
Research shows that clothing, like too-tight pants, can restrict babies' movement. Choosing development-friendly garb is one way to ensure that your little one has a full range of motion. Going without clothes altogether takes this to the next level, removing all clothing-related restrictions.
What's Better, Diaper On or Off?
Some pediatricians and pediatric dermatologists recommend fully-naked play as a way to heal or prevent diaper rash. And when it comes to potty-training, certain methods advise letting your toddler run around bare-bottomed, arguing that the uncomfortable sensation of urine on her bare legs will motivate her to get to the toilet.
Where movement is concerned, this study showed that babies, whether new or experienced walkers, walked best when naked. The researchers think this may be due to the bulkiness of diapers between the legs, and because diaper material wrapped around the legs may limit movement and affect balance.
"The reality", says Dr. Andrea Hayward, pediatric physical therapist, "is that giving babies opportunities to experience diaper-free moments can enhance the experience of walking, but they still have to figure out how to do it with diapers on."
If you want to give fully-naked play time a go, try it outdoors, or indoors on a large, waterproof mat or a type of floor that's easy to clean.
Whether your little one is crawling around in just a diaper or walking on a tile floor fully-naked, naked playtime (even 10 minutes a day) is an opportunity for her to experience the world in a different, developmentally-supportive way.