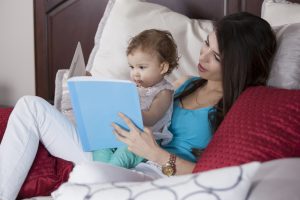 Reading is jam-packed with developmental benefits, and the American Academy of Pediatrics recommends that you do it regularly, starting in infancy. Whether you're reading to a newborn or a toddler, these expert tips can help you get the most out of story time:
Highlights: 
Reading is jam-packed with developmental benefits! 

Experts share the following tips for reading to babies and toddlers: 

Cuddle during reading time to promote bonding.

Develop a reading routine.

Choose sturdy board books or books made of cloth or vinyl. 

Allow your child to choose books.

Don't worry about sticking to the story. 

Don't worry if reading time is brief. 

Be patient with repeated requests. 

Use different voices and tones to convey humor and emotion. 

Keep books in their play area. 

Skip electronic books, as little ones miss out on the many rich benefits of reading with a caregiver.
Explore reading activities in our BabySparks program. In our brief "Read to Your Child" videos you can find simple, research-backed strategies for using reading as a language-boosting tool.
Cuddle. A major benefit of reading is bonding, so cradle your newborn in your arms, hold your older baby on your lap, or pull your toddler in close.
Develop a reading routine. Although we encourage you to read to your child anytime, a reading routine ensures that you're doing it regularly, which increases its benefits and helps build your child's attention span.
Choose sturdy books. For babies, it's developmentally appropriate to put things in their mouths (including books); it's one of the ways they explore and learn about the world. While fine motor skills develop, books will likely be banged around. Board books or books made from cloth or vinyl are durable choices for this busy stage.
Allow your child to choose books. Whether you're at home holding up two book choices for your baby or at a library with your toddler, letting him choose books helps keep him interested and motivated to read.
Don't worry about sticking to the story. A 2 month-old may listen to an entire book of nursery rhymes, simply because he loves the sound of your voice and doesn't have the skills to interrupt! It's normal, though, for older babies and toddlers to butt in, point, comment or ask questions, and turn a few pages at a time. Not only does that count as reading time, it also promotes brain-building back-and-forth between you.
Don't worry if reading time is brief. If your little one is only interested in reading for a few minutes at a time, that's okay. With regular reading and stories he enjoys, his attention span will steadily increase.
Be patient with repeat requests. Sometimes reading time is short, and sometimes it's long. "Again!" shouts your child after you finish the last page of "Pat the Bunny" for the second time. Take a deep breath and go for round three, because re-reading favorite books reinforces language learning and working memory.
Be a ham. Reading to your child lends itself to using different voices and intonation to convey humor and emotion. This not only keeps him entertained, it also helps him learn nonverbal language and supports his social and emotional development.
Keep books in your child's play area. In addition to reading with you, your little one may love to look at books on his own once he's able to pick them up, hold them, and turn the pages. This helps nurture a love of reading and reinforces fine-motor skills.
What About Electronic Books?
It can be tempting to prop up a tablet for your baby (or hand one to your toddler) and turn on a reading app. After all, it's marketed for babies and toddlers and the developer claims it's educational. Not only does the Harvard University Center on the Developing Child say there's no scientific support for these claims, but the AAP also recommends no screen time for children younger than 18 months.
If an electronic device is reading to your baby, he's missing out on cuddling, dynamic human interaction, and opportunities to practice fine motor skills by grasping books, pointing at pictures, and turning pages.
You can read more about screen time and development here.
Be sure to head over to this article next, where we talk about reading milestones during months 0-24.