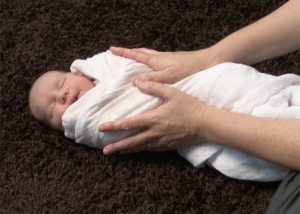 Great news! Your sweet baby has graduated from the NICU and is now home. This means he can breathe, eat, regulate his body temperature, and is maintaining a healthy weight.
In a full-term baby (40 weeks), all organ systems are mature and fully functioning when he is born. This includes his brain, lungs, heart, eyes, ears, bowel and muscles. When a baby is born earlier than 37 weeks, these systems must develop outside the womb, which means your baby will need your help.
Below are ways to support your baby's development in three important areas: Muscle tone and strength, gastrointestinal (GI) tract, and sensory system (auditory, tactile, smell/taste, and vision).
MUSCLE TONE & STRENGTH
Premature babies tend to be weak and hypotonic (low muscle tone), especially through the trunk. It's difficult for them to bring their hands to their mouths and keep them there, which is important because when babies bring their hands to their mouths they are learning to cross the midline (the middle of the body). Crossing the midline is integral to things like coordination and balance.
It's also hard for them to stay in flexion (curled up). They will try to gain a sense of control by stiffening their muscles. They may arch, stick their limbs out straight, make fists, or point their toes. Your baby will start to relax these movements as he gains strength and control through the trunk.
How to Help
Keep your baby in flexion. Full-term babies inside the womb are in flexion and pushing against the uterus, which builds muscle tone. You can help your premature baby by swaddling him or keeping his limbs bent and tucked in when you position or carry him.
Adjust your baby's positioning in the following areas: Behind the head—keep his chin tucked to his chest. Behind the shoulders—bring his arms forward and his hands to his mouth. Along the hips—bring his legs together. Under the knees—keep his knees bent.
Focus on midline. Keep his head in the middle, facing forward, and bring his hands to his mouth.
In the beginning your baby will need continuous support. As he gains strength and control over his body, he will need increasingly less help.
GI TRACT
It's often difficult for premature babies to pass stool. Even though their stools are not hard, they may appear constipated or strain during a bowel movement. This is because their abdominal muscles are weak. It takes a lot of abdominal strength to move stool!
How to Help
Swaddle your baby. Swaddling pulls your baby's body in towards the abdominal muscles, which turns them on and helps them get stronger.
Do GI massage. Your pediatric physical therapist can show you how to massage your baby to manually help move stool through his body.
Do appropriate abdominal exercises. Your pediatric physical therapist can also teach you exercises to help him move stool.
SENSORY SYSTEM 
Because premature babies have trouble integrating the information they receive through sound, touch, smell/taste and sight, they can easily become fussy or lethargic. Your baby will give you cues to let you know if he wants to interact, or if he needs a break.
Cues that he wants to interact: He is quiet and alert, with his eyes open and focused. His body is relaxed. His arms and legs are tucked in. His hands are at his mouth. He is smiling (around 6 weeks corrected age), or cooing.
Cues that he is overstimulated and needs a break: He is looking away. He appears stressed. His body is limp or stiff. He is yawning or sleepy. He has hiccups or is spitting up.
How to Help
Bonding touch. Touch, when your baby is showing you that he wants to interact, can help calm and regulate your baby. Provide calming, firm pressure, as soft strokes can be overstimulating. Skin-to-skin touch is also helpful. Lay your bare baby on your bare chest and cover him with a blanket.
Infant Massage. Studies show that for premature babies, regular massage can lead to better growth and development, better intake of oxygen, and a slowed heart rate during and after massage. Ask your pediatric physical therapist to help you learn this skill.
A firm swaddle with your baby's arms and legs tucked nicely creates a sense of security, and helps him regulate sensory information he receives from his environment.
These tips should get you off to a great start with your little one. For more ideas, our BabySparks app includes over 100 activities designed specifically to support the development in babies 0-3 months.